Hello! Welcome!

What's new...

Suzanne Petri at Davenport's
Read the review here!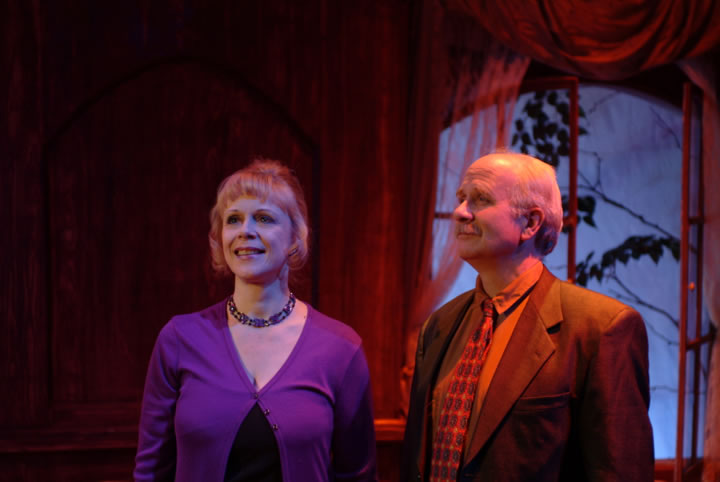 "Book of Mercy" by Carson Grace Becker at Chicago Dramatists Suzanne Petri and Richard Henzel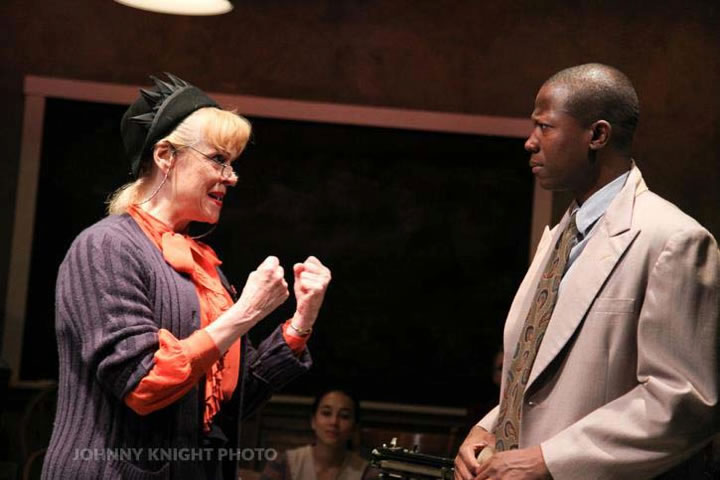 "Waiting For Lefty" at American Blues Theater Suzanne and Manny Buckley
Thank you for visiting! I'm very excited to share with you my website. Thanks to the Illinois Arts Council and the Chicago Community Arts Assistance Program and most of all to my wonderful designer, Kevin Buckstiegel!

Upcoming Suzanne Petri Events:

Happy Holidays to all!
April...warm..cold...will the weather hold so I can get out in the garden...in my spare time?
Well...we are keeping busy, Bob's at Profiles, I'm looking forward to being back with the Bernie Sahlins Rep at the Art Institute and also Musical Mondays on April 27th. Oh and American Blues! We're opening "Side Man" soon and I'll be doing the audio description and touch tour on May 10th--if you have any blind or low vision friends tell them to contact me!
Love from our little family, Suz, Bob and Lucy aka SuzBo

---

DON'T MISS BOB IN
"GENIUS"
http://profilestheatre.org/season.html

"I had prepared myself for a reprise of the virtuoso nastiness of Edward Albee. Walbert is so far above Albee's sentimentality, her intellect so clear, strong and unsentimental by comparison, that ten minutes in I felt ashamed of how badly I'd misread her play...
Robert Breuler as Joel is lovable, hateful, admirable and contemptible...Cale Haupert personifies the Midwestern doper mediocrity in Peter...and Stephanie Chavara suggests Charlotte's inner conflicts with a gesture, a look. Liz Zweifler as Sara made me want to read Sara's books that "beat Didion at her own game."
Do you live for the exhilaration of being ruthlessly enlightened by a mind superior to your own? Then go see this play." Bill Sweetland, NewCity Chicago
(773) 549-1815, $40. Through May 3.

The Alley Stage, 4147 N. Broadway

---

Thursday April 9th
6:30pm–7:30pm

Art Institute of Chicago
"Meet Mr. Yeats"
Fullerton Hall
Free with museum admission
http://www.artic.edu/event/performance-meet-mr-yeats

The Bernie Sahlins Repertory Players reunite to pay tribute to W.B. Yeats with one of Bernie's wonderful shows we did with him at the Poetry Foundation.

A cast of well-known local actors - Matthew Brumlow, LaShawn Banks, Suzanne Petri and John Mohrlein - brings to life the dramatic biography and gripping words of Irish poet William Butler Yeats on the occasion of the 150th anniversary year of his birth and the exhibition Ireland: Crossroads of Art and Design, 1690–1840. Son of a well-known Irish painter, Yeats was one of the greatest poets of the 20th century.

Meet Mr. Yeats, written by Bernard Sahlins, features seminal poems, ranging from the serene "The Lake Isle of Innisfree" to the terrifying "The Second Coming." The performers will delve into the details of his complex love life, follow his dabbling in the occult, and explore his founding of the Abbey Theatre in Dublin.

Registration is not required for this program. For additional upcoming concerts, please visit the concerts and performances calendar.

Presented with the Poetry Foundation and the Consulate General of Ireland

---

Monday April 27th
7:30 pm
Musical Mondays at Victory Gardens
Chicago Cabaret Professionals Presents:
"The British are Coming to Broadway!"

Victory Gardens Biograph Theater
http://victorygardens.org/also-playing/chicago-cabaret-professionals/
2433 N Lincoln Ave, Chicago, IL 60614
-Free Parking across from the former Children's Memorial
(773) 871-3000
Musical Director: Mark Burnell
Director: Joan Curto
Featuring: Anne Burnell, Mark Burnell, John Eskola, Hilary Feldman, Scott Gryder, KT McCammond, Suzanne Petri and Cheryl Szucsits

http://chicagocabaret.org/

See you at the shows!
Love and Peace,
Suzy and Bob

---

Check out my new acting reel here



We did some fabulous music in the last year…you know we will be up for your next party or event! Call me!

---

---

Chicago Cabaret Professionals Gala Benefit 2014 at Park West
"The Song's the Thing"



Bob Moreen and KT McCammond and I did a very special Sondheim medley…more to come!

---

If you saw "Hank Williams; Lost Highway" here's a little something for the memories!

"Thank God"
Suzy and Matt do a little warmup for the camera

Hank Williams "Lost Highway"
The Band warms up Sept 28 2014

Sammy Pruett's guitar
Michael Mahler warms up on Sammy Pruett's guitar, thanks to Sammy's son Sandy. Thanks so much Sandy!!!

Warmup
The band warms up on Sunday September 28th and Michael Mahler plays Sammy's Solo.

---

"100th Anniversary Garland" of Poetry Magazine
Rush Hour Concerts at St. James Cathedral RushHour.org
Poetry & Music: Pianist Kuang-Hao Huang, Readings of the poems by performers Suzanne Petri and John Mohrlein.
Listen to the simulcast on WFMT here:
http://rushhour.org/audioclips/7-24-12_concert.mp3
Co-sponsored by Rush Hour Concerts

---

This program is partially supported by a grant from
the Illinois Arts Council, a state agency.